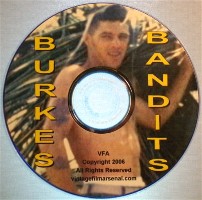 "BURKE'S BANDITS"
Vietnam War Home Movies
Home movies filmed by USMC Gunnery Sgt. Ed Ricker from D.I. School in the early 1960s through his service with the 9th Eng. Bn. in Chu Lai, Vietnam in 1967-68.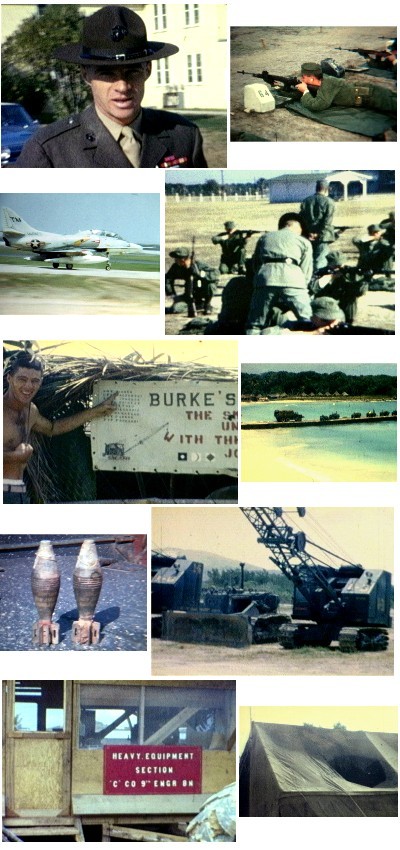 The film includes footage of graduation from D.I. School in 1963; footage of Boot Camp at Parris Island, N.C. -- DIs instructing trainees on the M-14 rifle and drilling on the parade ground; and graduation of Platoon 339. (The camera Sgt. Ricker used on this older footage had some problems, and there are some streaks through the film. It does not detract too much from the movie).
In Chu Lai you'll see views of Ricker's camp with a sign, "Burke's Bandits -- The Smallest Unit with the Biggest Job", cranes and bulldozers on the beach, LST-1177 loading trucks and equipment, and footage of 9th Engr. Bn. buildings and signs.
You'll see footage filmed while driving through Tam Ky and the surrounding area, men at various job-sites: roads, bridges, and a blown culvert. You'll see them hauling a crane on a trailer through deep mud, and explosions close-by along the road. There's film of damaged trucks, tents full of holes and other results of an enemy mortar attack, and at one point you'll see Marines and civilians gathered around a dead VC lying on the road. The movie concludes with footage filmed at Chu Lai Airbase of aircraft taking off and landing.
Other footage includes:
~Sgt. Ricker posing with a couple Chicom mortar rounds
~sign: "Motor Transport Section 'C' Co., 9th Engr. Bn."
~sign: "Heavy Equipment Section 'C' Co., 9th Engr. Bn."
~a bulldozer on a section of pontoon bridge
~a Marine with an M-3 "Grease gun"
~Marines and Vietnamese officers at a ceremony
... and more.
The DVD has a soundtrack which includes excerpts from voice letters that Sgt. Ricker sent home from Vietnam.
Running Time: 34 minutes
PRICE: $20.00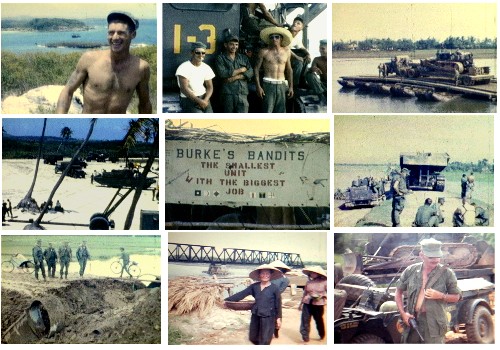 Click below to watch some clips from "Burke's Bandits" -- Please note that this You Tube video is silent & because of the transfer process is of a lower quality than the actual DVD.
---
---
---
Vintage Film Arsenal © 2007-2015