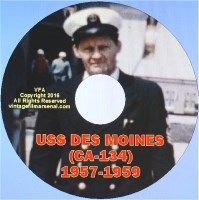 "USS DES MOINES 1957-1959"
Color home movie footage filmed by Michael M. Van Danich while he served aboard the heavy cruiser USS Des Moines (CA-134) -- Flagship of the 6th Fleet. Includes footage filmed at NAAS Green Cove Springs, Florida, on a Midshipman's Cruise to Canada, and a 1958 Med-Cruise.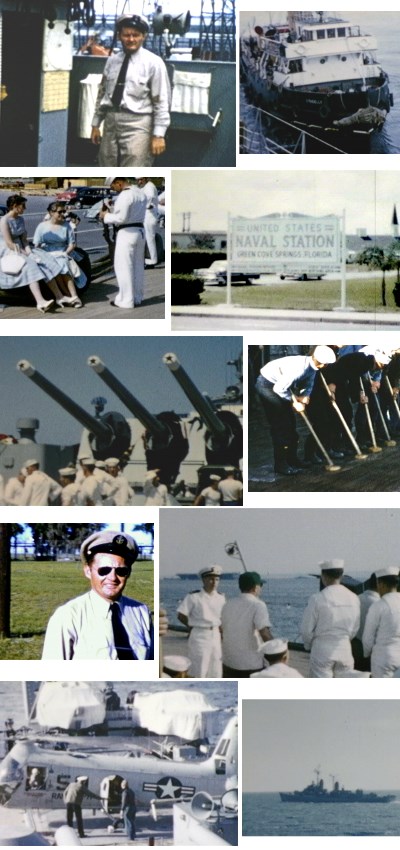 You'll see scenes filmed at NAAS Green Cove Springs in Florida, including shots of the base and a parade featuring sailors, a tank and an Atlantic Reserve Fleet float. In the Summer of 1957 the "Daisy Mae" visited Quebec on a Midshipmans Cruise -- you'll see the crowds of people who toured the ship and cruise past the Parliament buildings. In August of '57 the ship was in Portsmouth, at the Norfolk Naval Shipyard, and there's footage filmed on the Commissioning Day of the newest aircraft carrier, the USS Ranger (CVA-61). In 1958 the Des Moines was on a Med-Cruise, as Flagship of the 6th Fleet. You'll see scenes filmed at sea, replenishment activity, HUP helicopters, launching of drone airplanes off the Des Moines, and footage of carrier landings in the distance -- the USS Randolph (CVA-15) and USS Forrestal (CVA-59). The ship stopped in Villefranche-Sur-Mer on the French Riviera, and there's some footage of a Change of Command ceremony on board.
Other footage includes:
~"War Games" at sea, 1959 -- bombs dropped, smoke-screen from ship
~6th Fleet ships: USS Mercury (AKS-20), USS Myles C. Fox (DDR-829), USS Allagash (AO-97), USS Hawkins (DDR-873), USS Zellars (DD-777), and others.
The DVD has a soundtrack of AFVN radio shows.
Running Time: 51 minutes
PRICE: $20.00
Click button below to order: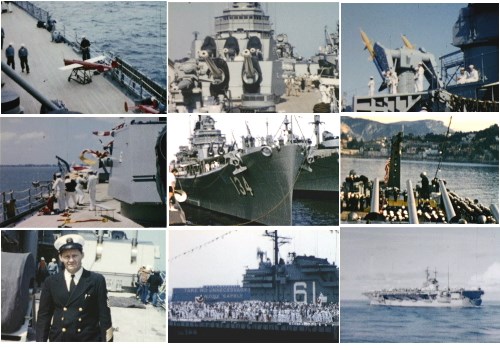 ---
Click Below to watch some clips from "USS Des Moines 1957-1959" -- Please note that because of the transfer process this You Tube video is of a lesser quality than the actual DVD.
---
---
---
Vintage Film Arsenal © 2007-2016. All Rights Reserved.