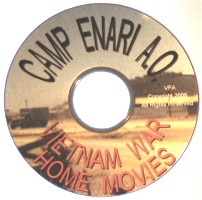 "CAMP ENARI AO"
Vietnam War Home Movies
Color home movies filmed in and around Camp Enari, in the Central Highlands of Vietnam. Camp Enari was the 4th Infantry Division's main base camp in the late 1960s, situated near Pleiku, at the base of Dragon Mountain.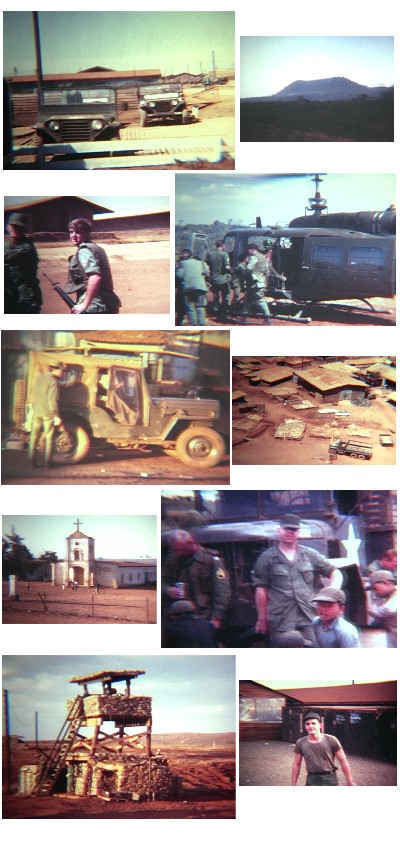 Travel thru the countryside around Camp Enari and Dragon Mountain, through towns and along winding mountain roads. Pass battle-damaged homes where villagers are cleaning up the still-smoking rubble. Drive up the road to Camp Enari where you'll see footage of soldiers and civilians, buildings, perimeter bunkers, helicopters and airplanes on the flight line, and a camp lookout tower.
Take a ride in a helicopter, flying low over and stopping at triangle-shaped Plei Me Special Forces camp, where you'll see buildings, trenches, bunkers, and Montagnards.
Other footage includes:
~Handing out apples to excited Vietnamese kids at an orphanage
~Rocket / Mortar damage scenes at Enari
~Aerial shots from a Huey
~Roadside gambling with US and indiginous soldiers
~Big dust-devil moving through camp
~OH-6 arrives at camp
...and much more!
The DVD has a soundtrack from AFVN radio shows.
Running Time: 48 minutes
PRICE: $20.00
Click button below to order: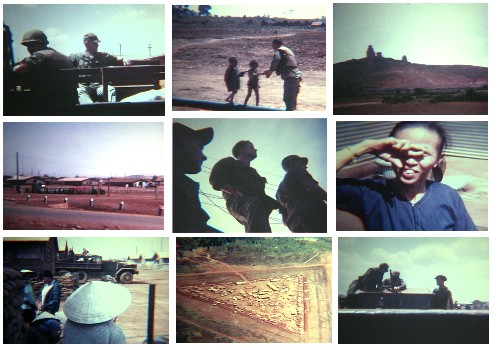 ---
---
Click below to watch some clips from "Camp Enari A.O." -- Please note that this YouTube video is silent and because of the transfer process, it's of a lower quality than the actual DVD.
---
Vintage Film Arsenal © 2007-2015. All Rights Reserved.