68th F.I.S. "Lightning Lancers"
Itazuke AFB, 1954
Color and b&w home movies filmed by a US Air Force pilot stationed at Itazuke Air Force Base, near Fukuoka, Japan in the early 1950s. He films his daily life -- at home and at the air base, (including flying scenes). It begins with the arrival of his wife and daughter who have come to live in Japan.
You'll see: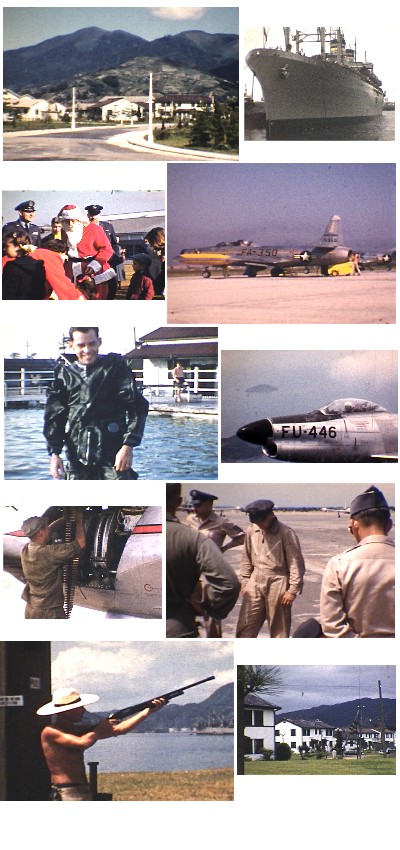 Families arriving in Japan onboard the transport ship Gen. Simon B. Buckner; base housing and the area around Itazuke AFB; family shots outside their house: little girl with her Japanese "nanny", meeting the neighbor & his girls, washing clothes in the yard. There are shots of Dad in his G-Suit, floating in the Itazuke Pool with his daughter, and even a shot of Santa Claus greeting the kids at the base. There's some travel footage and scenes of every-day life in the area -- Hiroshima Station, a train ride along the coast, a duck hunting trip in small boats, kids playing, Airmen enjoying a day at the beach, with hotdogs and beer, and golfing on a make-shift dried-grass course. There's a trap-shooting competition at Itazuke, (a small scoreboard reads "Itazuke" vs "Visitors" with names including Drake, Brown, Benson, Hipp).
~Scenes at Itazuke AFB include an Aerial-Target Gunnery Competition with an F-94 Starfire on the runway, ground-crew loading machine guns, guys gathered around long fabric target on the ground marking the 'hits', and a huge score-board and trophies inside a hangar. You'll get a view from inside the aircraft while flying over mountains & fields, shots of an F-94 (#FA-350) taking off and the view from the air of a formation of aircraft flying high over land, and in-flight shots of an F-86D "Dog Sabre" (#FU-446) filmed from another jet.
There's some b&w footage of a pilots' briefing in the ready-room, farmers planting rice, and street scenes.
The film ends with the trip back to the USA, beginning with a view of a crowded harbor and the transport ship USNS Gen. Hugh J. Gaffey, with a band playing and colorful streamers flying; footage shot on the voyage home and arrival in San Francisco.
The DVD has a soundtrack of Armed Forces Radio programs from the early 1950s.
Running Time: 1 hour 20 minutes
PRICE: $20.00
Click button below to order: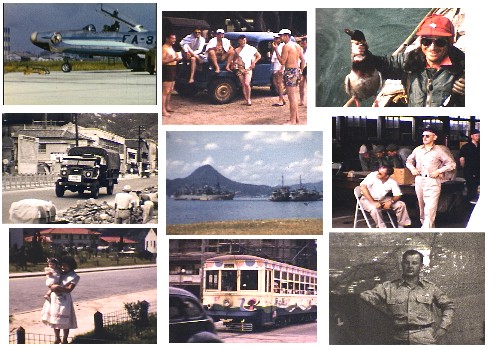 ---
---
---
Click below to watch some clips from "Lightning Lancers" -- Please note that this YouTube video is silent and because of the transfer process is of a lower quality than the actual DVD
---
Vintage Film Arsenal © 2007-2015. All Rights Reserved.