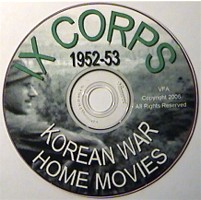 "IX CORPS - KOREAN WAR HOME MOVIES
SOUTH KOREA ~ 1952-1953"
Rare color and b&w home movies filmed by a U.S. Army Lt. Colonel, documenting his time with the IX Corps during the Korean War. Includes great up-close shots of the famous visit to Korea by President-Elect Eisenhower in December 1952.

Beginning at Fort Lewis in Washington state, you'll fly along with the Lt. Colonel as he travels to Korea, then heads for the front in an L-19 Bird Dog. At the front he meets with other officers, observes enemy territory from a ridgeline, observes a distant tank battle in the Chorwon Valley thru a telescopic lens, and spends time in camp.
You'll see footage shot at a rock quarry where Korean men carry loads on their backs to the waiting trucks, a large gathering of UN officers and soldiers with several Generals talking under cammo-netting, shots taken thru a telescopic lens of a flail tank clearing a mine field, and close-up shots of the tank.
The Lt. Col. takes a ride in an H-13 helicopter, taking low-level footage of battle-scarred fields, a low pass over a military base, shots of the pilot at the controls, and he even turns the camera around and films himself.
Later, at Suwon Air Base (K-13) you'll see F-86's landing, jets sitting on the flight-line, F-80s taxiing out of revetments and taking off, and a P-51 Mustang.
Of special interest is the rare color footage of the famous visit made by President-Elect Eisenhower in Dec. 1952. You'll see him in camp with an entourage of Generals, eating chow with 3rd Division troops, and leaving in a jeep with Lt. Gen. Reuben Jenkins.
Watch troops assaulting enemy positions, distant shots thru a telescopic lens of a flame thrower being used against a hillside position, and men charging across a snowy field as enemy mortar rounds bracket them.
You'll also see footage of:
~937th FA 155mm SP Long Toms "Ables Ace" & "Atomic Angel"
~a captured North Korean armored car
~Koreans threshing rice
~Shots of gun crew with their 8" Howitzer
~Officer posing with ROK officers
~Shots of Seoul, the people and buildings
~A small fawn "Rigormortis" mascot of Co. C, 72nd Tank Bn
~Train trip through IX Corps
~F-80 (tail # FT-555)
~Flights of C-119s dropping paratroops over a field
~Back home in the US -- barracks
The DVD has a soundtrack of Korean-war era Armed Forces Radio shows
Running Time: 1 hr, 28 minutes
PRICE: $20.00
Click button below to order: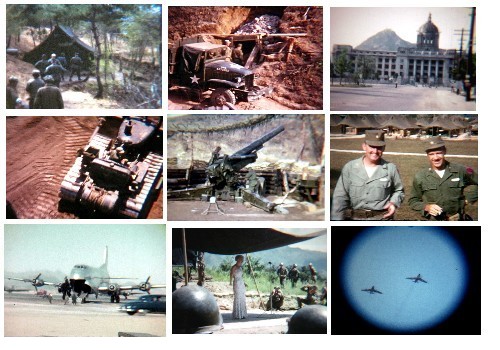 ---
Go Back To: KOREAN WAR DVDs
---
Click Below to watch some clips from "IX Corp Korea" -- Please note that this YouTube video is silent, and because of the transfer process is of a lower quality than the actual DVD.
---
Vintage Film Arsenal © 2007-2015. All Rights Reserved.