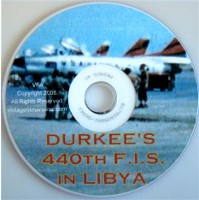 "DURKEE'S 440th in LIBYA"
Wheelus AB 1956-58
Color home movie footage filmed by Frank W. Durkee while he was with the 440th Fighter-Interceptor Squadron on rotational deployments for gunnery training at Wheelus Air Base in Tripoli, Libya during 1956-58.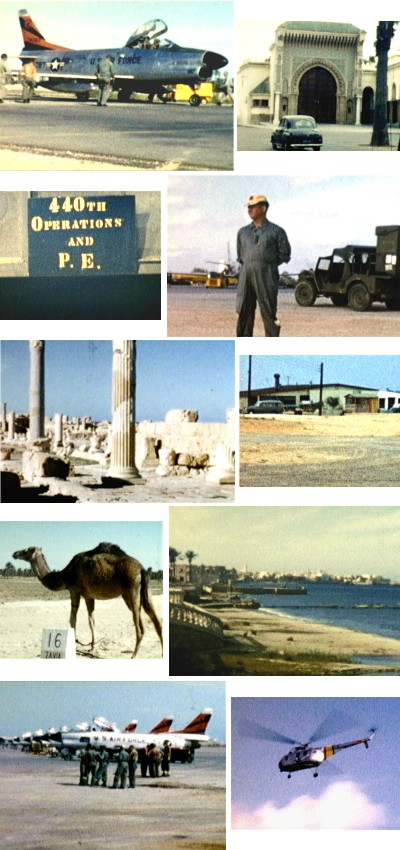 You'll see scenes filmed at Wheelus Air Base and on sightseeing trips in the region. There's footage of the 440th's compound: quonset hut & tents ("440th Film Assessment"; "Operations & P.E."; "440th Supply"; "Florida Bar"), Flightline activity including maintenance on jets, rows of F-86D Sabres, jets taking off and landing, and great aerial shots filmed from one jet while another Sabre fires rockets. Sightseeing footage includes shots of people and the countryside around Tripoli, city shots, visits to old Roman ruins at Sabrata and the Byzantine Gate, a roadtrip through the desert hills, and a walk through old WWII Italian barracks where soldiers painted murals, including the famous "Lady of Garian" -- a "map" of North Africa in the shape of a 1940s pin-up model (painted by Clifford Saber in 1943).
The DVD has a soundtrack of 1950s radio shows.
Running Time: 37 minutes
PRICE: $20.00
Click button below to order: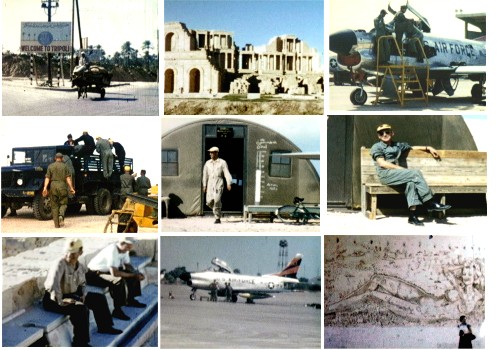 ---
Click Below to watch some clips from "Durkee's 440th in Libya" -- Please note that because of the transfer process this You Tube video is of a lesser quality than the actual DVD.
---
---
---
Vintage Film Arsenal © 2007-2015. All Rights Reserved.