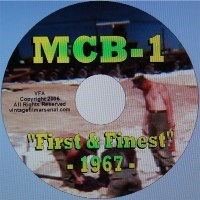 "MCB-1 "First & Finest" Vietnam War Home Movies"
Color home movies filmed by Sammy Davis of Co. B, MCB-1 in 1967 -- with footage of Camp Books, Red Beach, Danang Airbase, and the surrounding countryside.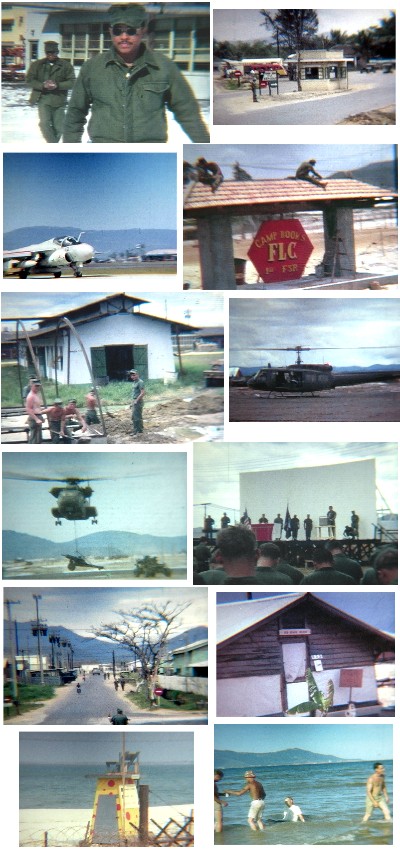 Beginning in Davisville, Rhode Island, you'll see men at a military base having a snowball fight, and waiting to board a C-5 Galaxy (437th MAW). Then in Vietnam you'll see footage of villagers, some sorting through garbage on the back of a truck and others selling crafts, shots of Camp Books, and great views of Red Beach with concertina wire and bunkers on the beach. You'll drive down paved and dirt roads through the countryside, stop at a large quarry where you'll see heavy equipment, a sandbag bunker at the quarry and men constructing another bunker.
You'll see Seabees working with villagers, putting in a well, doing first aid on children, grouped around a newly constructed building, eating watermelon, and more.
Back in camp you'll see a memorial service with a 21-gun salute, shots of hootches and other buildings, a C-123 banking low over the camp, and men constructing a building.
At Danang Airbase you'll see a C-130 taxiing, an EA-6 taking off, an F-4 Phantom landing, and shots of the mountains. You'll pass by two-story barracks heavily damaged by enemy fire, and see other damaged buildings and destroyed aircraft on the base.
Other footage includes:
~line of troops walking across a rice paddy
~"Trai-Binh Si-Doc Than" sign
~driving past a smoldering garbage dump
~"366th Civil. Eng. Squadron" sign on building
~CH-53 helicopter flying w/ an RB-66 jet suspended below
~great shots of destroyed Nam O Bridge and temporary pontoon bridge
~CH-53 lifting off w/ 105mm Howitzer on sling
~hootch w/ signs "Red Beach Hilton" & "Camp Shaft"
...and much more
The DVD has a soundtrack from AFVN radio.
Running Time: 50 minutes
PRICE: $20.00
Click button below to order: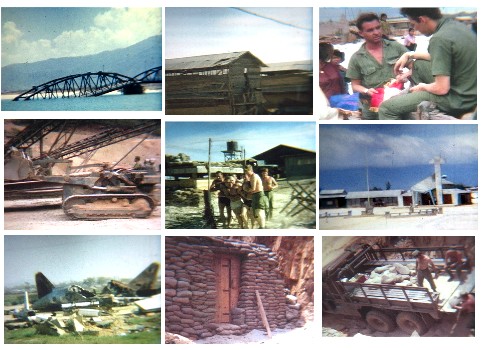 ---
Click Below to watch some clips from "MCB-1 First & Finest" -- Please note that because of the transfer process, this YouTube video is of a lesser quality than the actual DVD.
---
---
---
Vintage Film Arsenal © 2007-2015. All Rights Reserved.